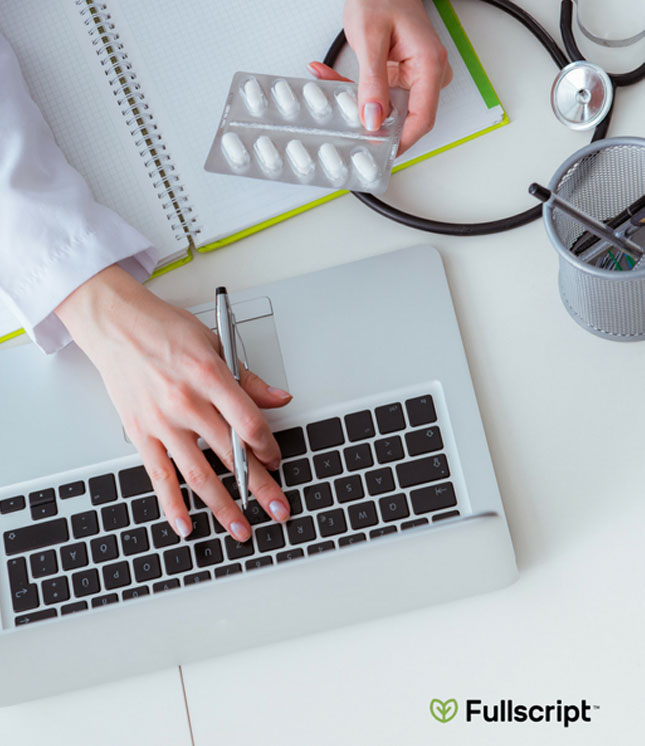 Fullscript
Fullscript (Healthy Web Inc.) provides clients with an easy-to-use platform for online supplement prescriptions. They provide effortless dispensing and fulfillment for over 25,000 practitioners and over 600,000 patients across the U.S. and Canada. Fullscript's mission is to take the hassle out of integrative healthcare by making supplementation seamless and easy for practitioners and their patients.
The Ottawa Business Journal lists Fullscript as one of the fastest-growing companies for the second year in a row.
The company's latest three-year growth rate clocks in at an eye-popping 3,128.6% – more than double its already impressive mark of 1,245% from 12 months ago.
Helping people get better is Fullscript's life's work. Fullscript supports practitioners focusing on prevention and the connected, underlying causes of a patient's symptoms. Thousands of integrative and functional health professionals are pushing for a shift to a more proactive perspective on lifestyle, patient care, and all of medicine.
These practitioners are on a mission to provide lifelong care that helps people discover and rediscover wellness for the rest of their lives. It's Fullscript's mission to support them — to help people get better.
From practitioners to patients, partners, and colleagues, we build frictionless technology and personalized experiences to support those on their wellness journeys, whatever that means to them.
Fullscript had a cost-per-acquisition of ~$110 USD.
Fullscript's overarching objective was to increase the number of qualified client sign-ups while decreasing their cost-per-acquisition with an internal targeted goal of $80 USD for each confirmed sign-up.
After reviewing Fullscript's segmented approach for digital promo and siloed tactics on digital platforms, Nexus sought to align all promotional efforts under one unified approach.
Every digital initiative was strategically used to "advertise with intent" across a variety of ad platforms to reach and engage as many qualified potential clientele as possible.
Nexus Digital applied a staggered approach focusing on branding, prospecting, and remarketing. The campaign(s) utilized different messaging with a combination of repurposed client creative assets and refreshed branding assets to reach the right people at the right time and in the right online space. 
Fullscript had an initial client cost-per-acquisition over $110USD, Nexus was able to surpass Fullscript's intended goal of $80 CPA to $54 for each confirmed client sign-up across North America. The results from digital provided significant benefits to the company, its brand, its business growth and overall success of the digital promotion, engagement and ultimately more results.
SOME CAMPAIGN CREATIVE SAMPLES:
Ad Samples for
FULLSCRIPT™

For Fullscipt's digital campaign image, text and video ads were utilized across Facebook, Instagram, Google Display, LinkedIn, and YouTube platforms.
These ads were used for hyper-targeted reach and brand/service awareness, engagement, and for actionable conversion-based registration and sign-ups.