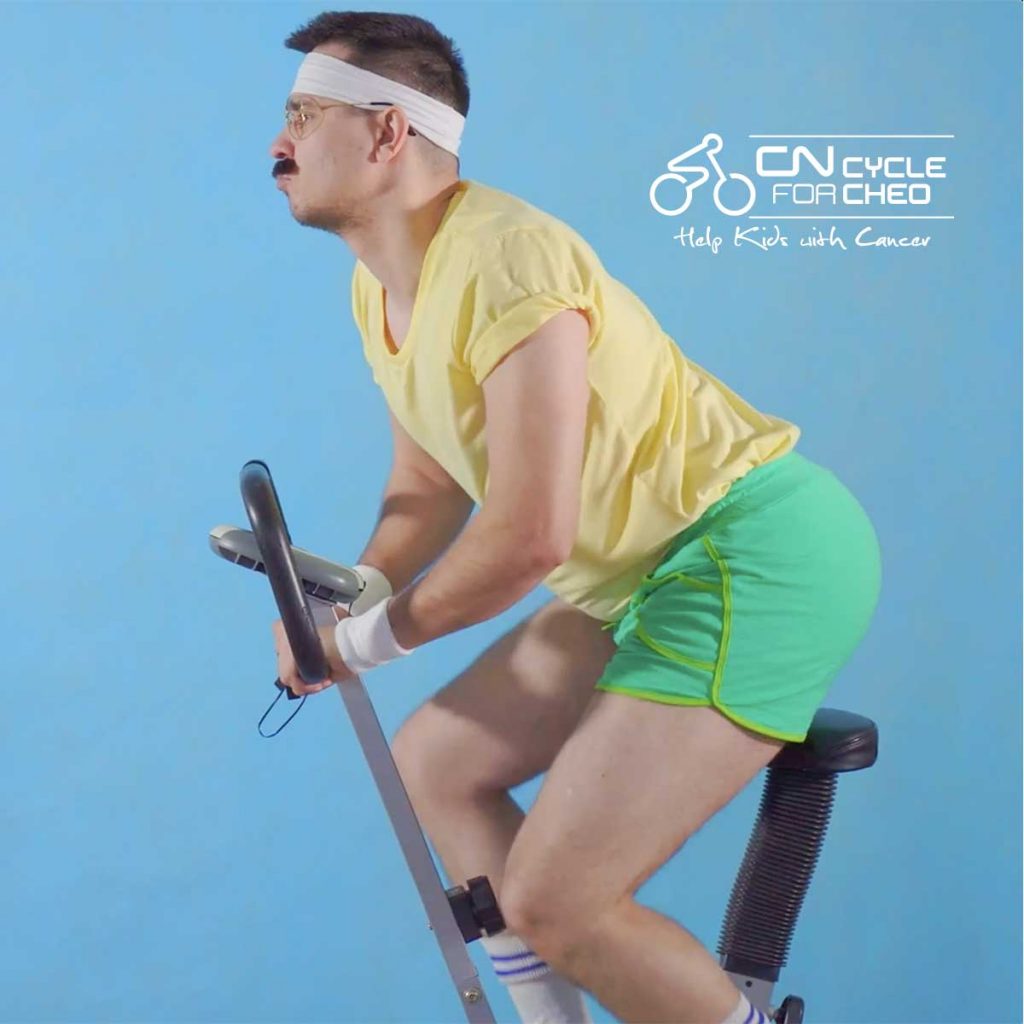 CN Cycle Campaign Creative
CN Cycle for CHEO is a fun, non-competitive event that offers a wide range of cycling and walking routes for people of all ages and abilities!  keep CHEO an innovative leader in childhood oncology care.
Childhood cancer is rare, yet at any given time, CHEO is involved in the care of more than 500 children affected by it. Fundraising efforts from CN Cycle help CHEO treat the 200 patients in active cancer care, as well as 300 patients who are monitored in the aftercare program.
The CN Cycle event is the largest pediatric cancer fundraising event for CHEO and is crucial to the community.
The staff's expertise, innovative research and special brand of care will ensure that about 80% of patients will survive their cancer diagnosis. But by continuously investing in research and devising new treatment plans, the goal of CN Cycle for CHEO is to someday eradicate all pediatric cancers.
Looking to expand on past successes for the CN cycle event, The Children's Hospital of Eastern Ontario (CHEO) wanted to:
Increase total participants
Increase raised funds
Generate more team and local business team participants
Reach new audiences and expand demographic reach
Historically, the CN Cycle event was focused on as a family-oriented activity. A new approach to awareness, targeting, and creative strategies needed to be developed to grow the event beyond traditional methods.
Most recently, as a result of the global pandemic and COVID-19, all in-person events had to be suspended and were no longer an option.
With an exceptionally strong track record with CHEO and their team and partners, Nexus Digital was able to access and fully grasp the client's goals and objectives in order to outline the best possible approach and positioning for success.
After initial client touchpoints, Nexus Digital did a deep dive developing an enhanced client brief, media plan, targeted campaign schedule including CN Cycle's geographic and demographic targets.
Nexus Digital developed new audience-specific messaging and creative for hyper-targeted users that coincided with new segmented audiences to help grow and expand the CN Cycle event to new heights.
As part of the audience expansion digital campaigns were created for:
Hardcore cycling enthusiasts, including cycling clubs + online groups, and cycling influencers
Businesses including management, HR team building as well as internal business leaders
Event sponsor followers and interest-based targeting across sponsorship sectors.
Families with children including parenting and family activity groups.
Philanthropy groups, oncology professions and organizations, interest-based charitable groups focusing on youth and cancer.    
In conjunction with audience segmentation, hyper-targeted creative and messaging was developed to speak directly to these groups of people.
All campaigns used an overarching message to get involved and help support kids with cancer and either volunteer or register for the event.
Digital awareness campaigns focused on captivating digital creative with inspiring story-telling to appeal to and engage each dedicated audience.
For both live and virtual events, Nexus Digital used a combination of compelling video, images, and dynamic creative across dedicated platforms. Digital ad variations were released in conjunction with each user's journey and areas of website engagement.
Added conversion-based creative and remarketing was used to align with registration timelines and event deadlines to maximize exposure and promote various signups.
Additionally, a post-event event appreciation campaign was created highlighted footage from the event, dedicated corporate sponsor support, fundraiser and participant efforts, and event volunteer appreciation. 
Over the last 5 years, the CN Cycle for CHEO live event has grown exponentially registering over 4500 active participants.
In the wake of the global pandemic and forced shift to a temporary virtual event, CN Cycle for CHEO still recorded almost 2300 participants.
During that same period (with the exception of last years pandemic outlier) year-over-year dating back to 2017, The CN Cycle event has seen a steady increase in:
Users to the website by +20% annually
Website sessions by +35% annually
Increased ad-recall YoY.
Increased reach in the millions of hyper-targeted users YoY
millions of added video plays YoY
Increased percentage of people watching videos over 75-100% completion rate.
SOME CAMPAIGN CREATIVE SAMPLES:
For CN Cycle's digital campaign(s) a variety of contextual audience and message-based image and video ads were utilized across Facebook, Instagram, Google Display, and LinkedIn.
These ads were used to reach and engage with different targeted audiences with dedicated messaging in order to generate actionable conversion-based registrations, donations, and support.