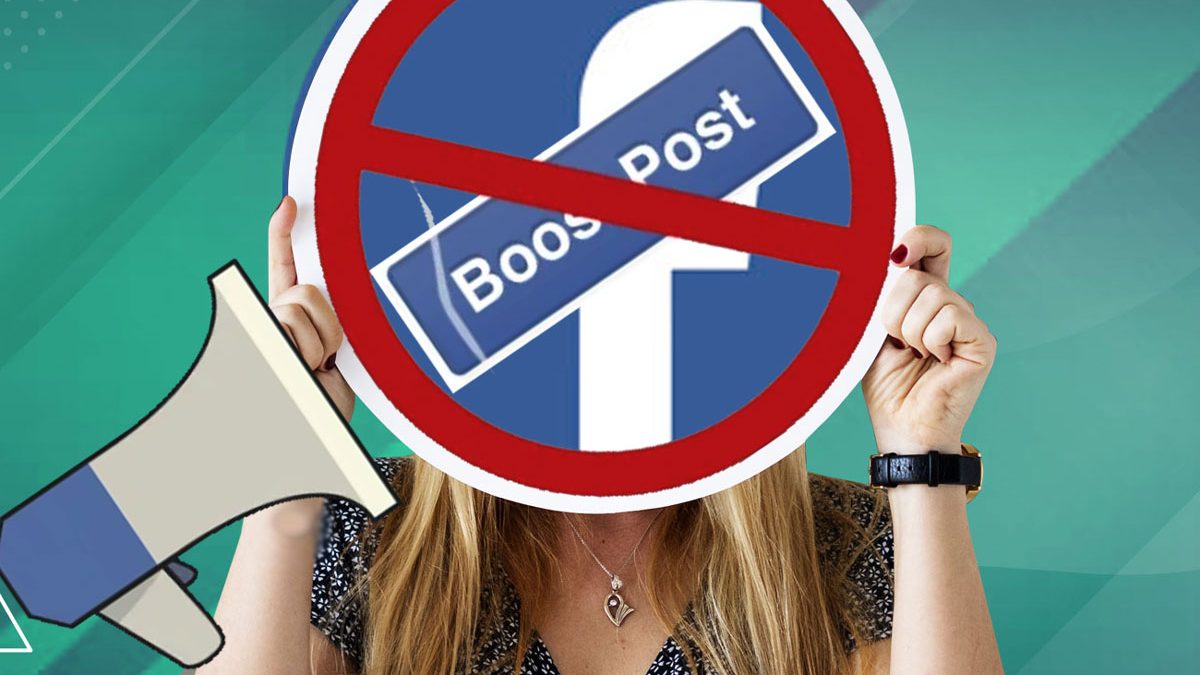 Why NOT Boost A Post On Facebook
While there are hundreds upon hundreds of thousands of Facebook page managers that use the 'Boost Post' feature to increase post reach and try to generate engagement, I cannot stress enough that Facebook's 'Boost Post' tool is not the best way to allocate funds or efforts, and is not optimal for actual reach, awareness or engagement.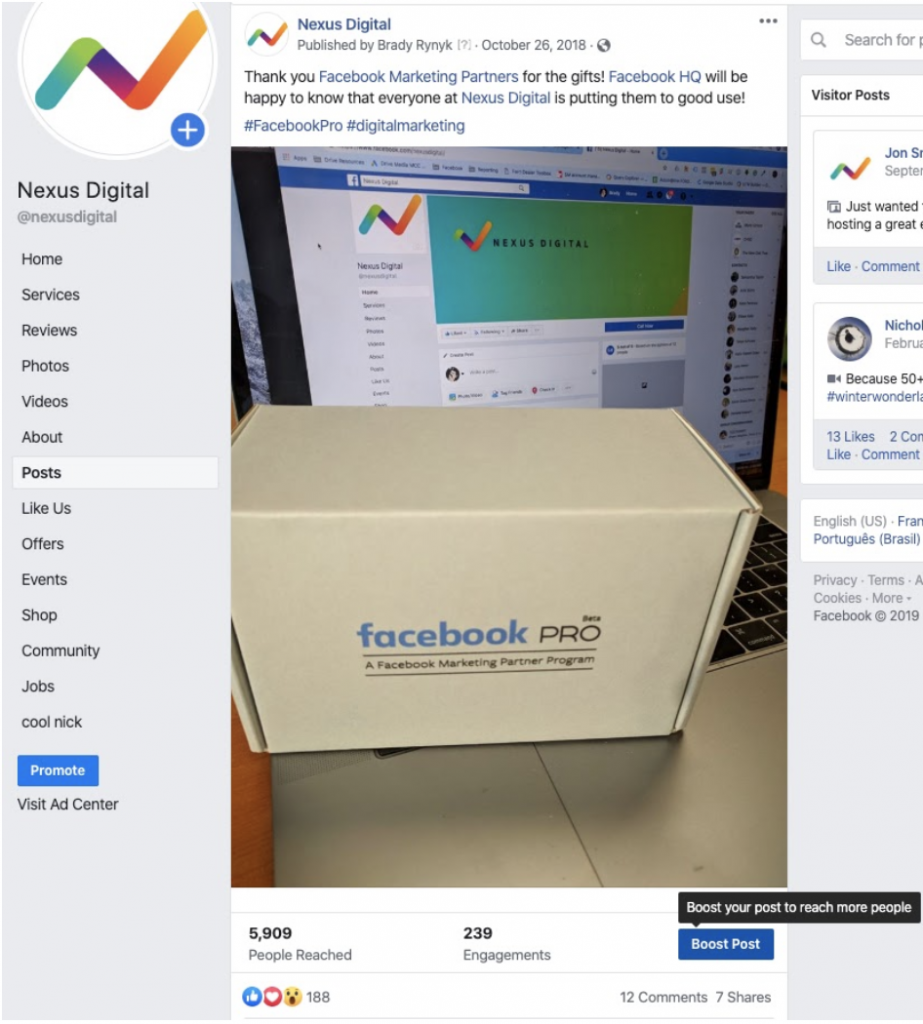 Sure, the 'Boost Post' feature is fast and easy for anyone to do. You set up some basic targeting criteria (to your page's users and location), add in how much you want to spend, and click a button. Voilà! You're in-market generating reactions, comments, shares, and your paid-post will be able to reach more than the ~2-6% of the followers that it would normally reach from organic traction. Not to mention, the vast majority of extra users that will see your (boosted) post aren't necessarily likely to react in a way that will significantly impact your business's goal/objectives.
Some consider the 'Boost Post' feature is a quick money grab for Facebook. It can be a waste of funds and is not the best option to drive true business value for a company, organization, or brand. Especially when there is a better way to achieve an actual objective or goal – Facebook's actual advertising platform is a juggernaut that is extremely effective. Technically, the 'Boost Post' is the simplest way to advertise on Facebook, but simply do not leverage the full power of Facebook's superior ad platform. Even Facebook tells people (who are looking) to "create more advanced ad types and campaigns, use Ads Manager."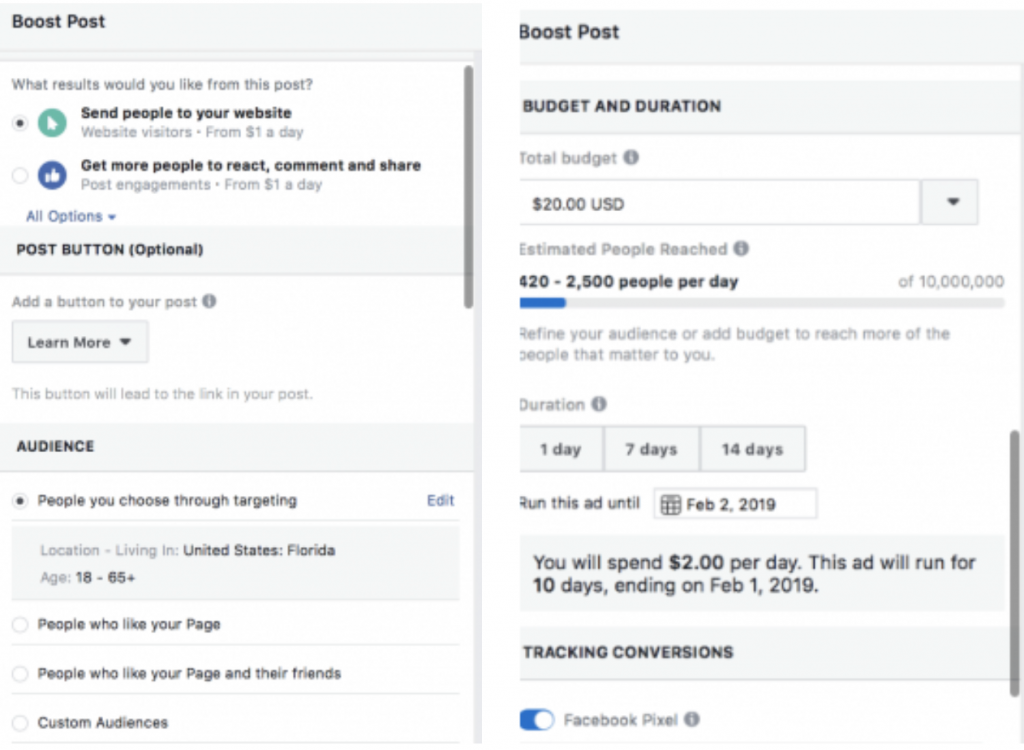 The 'Boost Post' feature is basic and limited in that Facebook's algorithm focuses on generated/targeting users for engagement that are bucketed to a certain type of categorized Facebook person/user that is likely to "engage" (react, comment or share) because they do that for everything on Facebook (we all have "that friend" or relative that does it).
Similarly, the 'Boost Post' focuses their reach to all your FB fans (people who like your FB-page), and friends of your fans (friends of people who like your FB-Page).
Even with the boosts limited targeting and no advanced demographic and behavioral options, they are not linked to targeted people that will convert at any point – Boosted Posts are reach based and do not focus on lower-funnel based objectives.
Here are some of the elements that a 'Boost Post' does NOT offer:
Advanced targeting, demographic, and superior behavioral options

Similarly, the option to exclude specific categories

Specific actions/results-based diverse ad and conversion-based ad objectives

Pinpointed placement or device targeting

Advanced ad scheduling

Diverse creative options

Customized duration of ad flights and ongoing campaign options

Custom audience or conversion tracking features

Robust analytics about the performance of your ads

A/B Split Testing with audiences and dynamic creative

Prioritized Campaign action optimization

Various specific engagement actions, or daily unique reach/impressions

Ad optimization and performance-driven modificatio

ns
Reference:
 boosted posts are still considered ads because they require a budget to be shared with a wider audience. This is the core similarity it shares with Facebook Ads